Behind The Scenes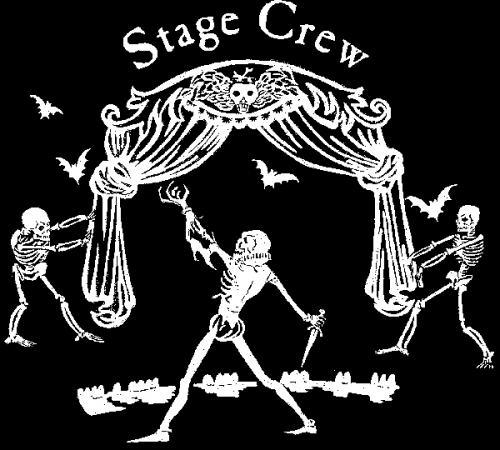 Hang on for a minute...we're trying to find some more stories you might like.
When you watch a play, you can see what is occurring on the stage and the finished product of a play but, you never get to see what is going on behind the scenes. All the hard work of building sets and putting together  the artwork that will be displayed for the whole school to see. None of these outcomes would happen if there was not a stage crew.
This group of talented builders and artists paint and build the set to make sure it is perfect and ready for everyone to see. They put a tremendous amount of hard work and time into creating the perfect allusion to enhance the play's story and the audience's perception of it. 
The stage crew is ran by Mr. Shannon and Mr. Longstreet with the help of Mr.Caldwell.
This year, the stage crew are working on they play, "The Addams Family." The builders have to build stairs and backgrounds while the painters make the Addams Family's house, tombstones, and trees.  Like actors of the play, the stage crew has to play many roles. For example, they have to manage lights for both for the main lights and the spotlight on stage. Then, there is some people who are backstage moving things and making sure that all the equipment and materials are where they should be, ensuring there are no mistakes made.
On show night, with everyone so stressed about their work, it can create a hectic and a crazy environment. Everyone is moving around with a role that needs to be not only done, but executed.
Junior, Stacey Hernandez who's a part of stage crew for a second year stated, ''Stage crew is fun, it can get stressful, but everyone has fun and everyone gets along.'' She went on to say, '' It is a good experience.''
Overall, the  Manville High School stage crew might not be seen on the stage, but they are there contributing behind the scenes.