MHS Remodeling:The New Additions to Manville High School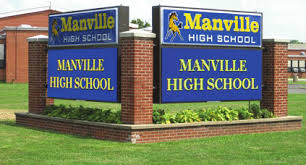 Renee Lozier
April 15, 2019
Hang on for a minute...we're trying to find some more stories you might like.
The town of Manville celebrates its 90th year anniversary of the high school being built starting from 1929 to 2019. Surrounded by the old age time era, Manville High School is a bit outdated. Over the course of a few years, architects created blueprints for the new remodeling of a new and improved modern high school.
After many decades, Manville High School has not been modernized, where many aspects are outdated or run down. The new principal of MHS, Mr. Hemberger recently started gathering up ideas to make this school more modern and welcoming. Many new changes are coming including the remodel of the library, the gym, and the auditorium. Why not try to get some insight of what is really happening?
With an additional 3 million dollars in added funding provided by the state there really is no argument in what is needed to provide better opportunities and priorities for upcoming high school students.  Besides all the physical additions, most of these changes are made out to be more beneficial for class sizes and learning. Faculty members such as the librarian Rachel Gottfried, the Gym instructor Partick Denapoli, and a variety of the staff agree with these changes.  
The changes said by the librarian about some of the contributions to this change was that the library was not "inviting and modern." There will be additions such as common areas, game tables, study areas, couches, lounge areas, new carpeting and new paint. The overall idea for this area is to be more welcoming for the students. They wanted it to be more databased oriented and modern for better opportunities for the students.  
Another upcoming advancement will be done to the auditorium. The auditorium will feature new carpeting, new chair layout and design, and a new sound system.
These projects are going to start right as the senior class graduates in this upcoming June 2019. Not only is it going to provide a better learning purpose for students, people are also exciting for the new developments for this progressive change to MHS.