Marissa Morris Student of the Month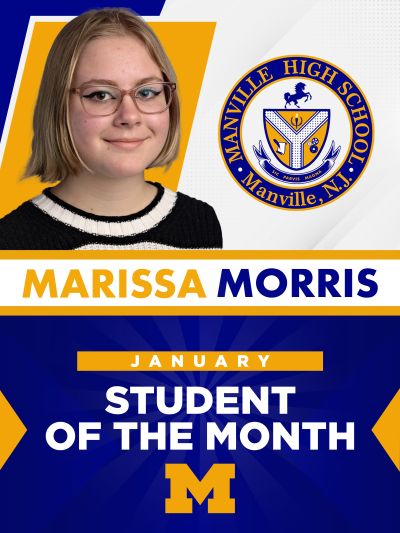 Marissa is a proud student here at MHS and has made a very powerful impact on the school. She is seen as an inspiration and contains all the qualities that make a student, well, Student of the Month for January! She is highly involved in many activities of the school and we wish her luck in achieving her goals. A Student of the Month is capable of achieving many aspirations and that is what MHS looks for when recognizing these monthly achievements.
Marissa communicates that she was very honored and appreciative of the recognition, as well as other opportunities she has been given at MHS. However, not much is just given to her, as she has to work extremely hard to keep up with all her achievements. "I actively try to put a large amount of dedication towards my academics. I quite enjoy participating in my classes, and I also truly enjoy learning and keeping up in most of my classes." Marissa is extremely involved in Manville's community consisting of,
being a member of the Forensics team since her freshman year, being a varsity cheerleader since her freshman year, a member of NHS and the spring track team since her sophomore year, was in the environmental club her freshman year, and despite not having it sophomore year due to covid, she even became president of it in her junior year! She also joined the winter track team and GSA for the first time in her junior year.
Given all her involvement at MHS, she plans to continue her education where she states, "
I am quite excited and looking forward to my future years in college, I don't know precisely where I want to go yet but I want to go somewhere north of here to study environmental science/policy."
Lastly, Marissa communicates, "It is a very huge honor to know that I have been elected for this, especially during times when it feels as if I will never be able to do enough, whether it be towards my goals or for my peers and community."
Congratulations!