Coronavirus Saps Our Everyday Lives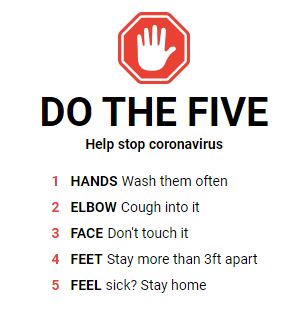 COVID-19 (CoronaVirus) is a highly infectious disease whose origins are currently being investigated. It has been speculated that COVID-19, short for coronavirus-disease 2019, was initially transmitted from animals to humans. This disease was first identified in Wuhan, a city in central China that is home to over 11 million people. Although this disease is relatively new, it has killed 9,415 people worldwide, with 152 deaths coming from the United States. 
More cases are being uncovered throughout the world. Originally endemic, after COVID-19 spread outside of the borders of China, the World Health Organization and many other countries have declared this COVID-19 breakout a pandemic. This COVID-19 strand has been spreading around the globe since late 2019, since then many countries have instilled quarantine measures and social distancing to slow down the spread of the disease. Governments have been advocating for citizens to follow health measures, curfews, and to halt any congregations/massive get-togethers. The United States is no different, in fact, many schools, restaurants, and businesses have shut down in order to prevent the disease from spreading any further. 
COVID-19 is highly contagious and can survive in many environments. "So depending on the temperature, if it's, say 70 degrees, you can see fomites — basically the virus particles — live on surfaces like paper or steel up to anywhere from two hours to nine days, but if it's ambient, if it's, say, 60 to 70 degrees, longer lifespan; if it's hotter or colder, shorter lifespan." – Dr. Vin Gupta, a respiratory specialist, and global health policy expert. Since people can catch COVID-19 in a variety of ways, it is vital that the masses remain cautious about what they touch and disinfect/clean surfaces constantly. 
The disease itself can spread through many ways. "The disease causes respiratory illness (like the flu) with symptoms such as a cough, fever, and in more severe cases, difficulty breathing" – World Health Organization. When in contact with people who show signs of these symptoms, a person must stay vigilant and keep a distance of at least 6 feet. "Coronavirus disease spreads primarily through contact with an infected person when they cough or sneeze. It also spreads when a person touches a surface or object that has the virus on it, then touches their eyes, nose, or mouth" – World Health Organization. To ensure that a person will have a lower chance of catching COVID-19, health practices and cleanliness are of the utmost importance.
"You can protect yourself by washing your hands frequently, avoiding touching your face, and avoiding close contact (1 meter or 3 feet) with people who are unwell" -World Health Organization. Many platforms have been advocating people to follow these guidelines, Google has released a PSA that states "DO THE FIVE". Help stop coronavirus. 
Hands: Wash them often.

Elbow: Cough into it.

Face: Don't touch it.

Feet: Stay more than 3ft apart. 

Feel: sick? Stay home."
With the world shaken from this disease, it is essential that everyone remains calm and level headed. Simple procedures dictate that this disease, albeit highly contagious, can be prevented from following a healthy mindset. The future with this disease is unknown, however, researchers, health officials, and governments around the world are looking into solving this worldwide issue.