Earthquake Hits Puerto Rico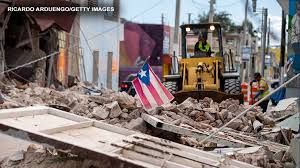 Puerto Rico, a United States territory, is currently under a state of panic after a 5.8 magnitude earthquake hit the south west region of the island. The 5.8, which escalated to a 6.4 earthquake, is still up and rumbling throughout the entire island. Sadly many homes that were constructed since the infamous hurricane Maria back in September 2018,  have been damaged again.
The massive earthquake has destroyed numerous homes in the southern coastal region of Puerto Rico. The destruction was so severe that people sought refuge in non-refuge made facilities, their houses were left destroyed, and their cars were crushed. It is more severe due to the way the houses were constructed, a form of both stable and unstable balance while they were currently living there. People were living outside of their homes and were even scared to go inside again.
CNN News states, "[a]n earthquake with a preliminary magnitude of 6.0 rattled Puerto Rico on Saturday morning, the US Geological Survey reports. The quake was about 8 miles south of Indios, Puerto Rico, in the Caribbean Sea, the USGS said, at a depth of 6.2 miles." CNN explains more about the earthquake and  its influence on electricity power, "the US territory was expecting power to return by Saturday to its 3 million residents, and authorities had tweeted that it was 95% restored a couple of hours before Saturday's quake." Meaning that it was supposed to regain a minimal good portion of the internet by Saturday. However, with the aftermath of the island and the earthquake, it was suddenly pushed back.
Only one death has been reported during the earthquake in Puerto Rico. Millions of people lost their belongings, homes, and vehicles. The start of 2020 hit us with natural disasters, climate change destroying continents and in preparation for a possible war. Many bad things are happening to us all over the world. Eventually with donations and hope, we can make sure things slowly and surely turn for the better in this new year and new decade.