One Small step for All Man and Woman kind: The First All Female Spacewalk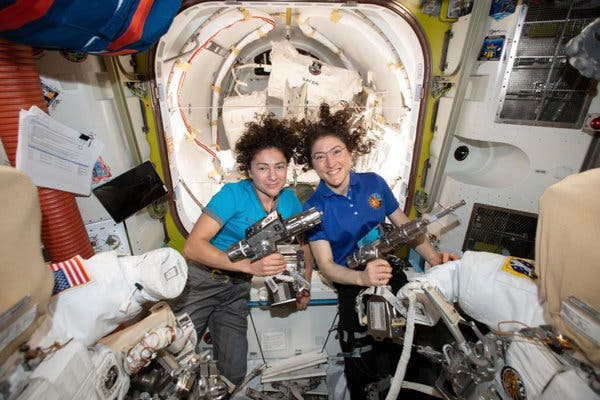 October 18th, 2019 marked another milestone in female space exploration. Astronauts Jessica Meir and Christina Koch conducted the first all-female spacewalk in the history of extraplanetary travel. A spacewalk is when an astronaut exits the spacecraft they are traveling in and physical enter outer space. Their official mission stated by the National Aeronautics and Space Administration (NASA) was to "replace a battery charge/discharge unit that failed to activate" on the International Space Station. However, this was not some marketing ploy or mission designed to appease. This was a job done by two extremely qualified people who just so happened to both be women. All female jobs will become more commonplace in NASA. Since 2013, around 50 percent of astronaut classes have been women. 
Women have always been part of space exploration, it is just more recently they have more opportunities. In 1963, Valentina Tereshkova became the first woman in space when she was part of the Vostok 6 mission from the USSR. Sally Ride was the first American woman in space. On June 18, 1983, she flew in the Challenger shuttle as part of mission STS-7. While October 18th marked the first all female spacewalk, this was not the first time a woman exited a spacecraft and performed an activity outside. Kathryn D. Sullivan did so on October 11, 1984 also aboard the Challenger shuttle. She was part of mission STS-41-G.
NASA has announced plans to continue its exploration of space. They plan to send a woman and a man to the moon by 2024, 50 years after the Apollo missions, which sent the first humans onto the lunar surface; NASA is using the name of the greek god's sister, Artemis, to continue their mission. According to NASA, they officially "will use innovative new technologies and systems to explore more of the Moon than ever before." Regardless of gender, the future of space exploration is full of opportunities for the next generation.