The Man, The Veteran – Mr Forte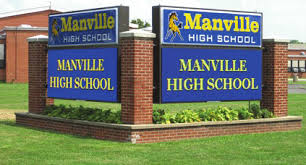 Kevin Rodriguez
June 18, 2019
Hang on for a minute...we're trying to find some more stories you might like.
Whether you're a student or teacher, every individual has a completely different experience here at Manville High School. For some, they enjoy it, whereas others may not exactly be excited by everything going on around them. In the case of Mr. Forte, there's certainly been a bit of both.
Mr. Forte has been teaching at Manville High School for 13 years. He's been a part of the good, the great, and the not so great in this building. In his 13 years, the changes that have occurred have been drastic – from the community, to the building, to his own classes.
In his 13 years at Manville High School, Mr. Forte has taught US1, US2, World History, Criminal Justice, Economics, AP Gov, APUSH, and there was even a time where he taught US Military. As far as clubs, he was heavily involved with student council for eight years, and is still involved with leading the forensics speech & debate club.
The growth of the forensics speech & debate club here at Manville High School has to be one of his proudest accomplishments, "The idea for forensics started when I first started teaching there, it was kind of a debate club, and we've been competing for 8 years, and that's grown a lot, that's come a long way." While the club hasn't been one of the biggest in the past years at Manville High School, they've definitely grown significantly – as have the students involved.
"The forensics kids have been the ones that really commit, and go to all the tournaments and stick around and grow, as individuals, and end up, you know, overcoming a lot of challenges, the ones that overcome their nervousness about public speaking."
"I've seen a couple students doing speeches in front of board of education meetings. That is one of the most impressive things to see, the amount of confidence they gain, how it helps them overcome the challenges and everything."
There's absolutely no doubt Mr. Forte is proud of the progress his students and forensics kids have made, and with the accomplishments and success they've made this past year, a large portion of the group still has much more to come.
There was no lack of praise for the community in which Mr. Forte has taught in for the past 13 years. "The good thing about Manville is being a small community like, everybody knows everybody and I know all the students, or most of them at least, and all of them know who I am." No matter where he is in the building, it's not difficult to spot out someone he knows, whether they're a student of his or not.
One of the best things about Mr. Forte is his popularity at Manville High School. He's certainly got his own little fame through his trademark snapping, "Walking the hallways is fun sometimes because everybody is snapping their fingers at me and I'm snapping back and doing all these moves, you feel like, you have 15 people are giving me finger snaps from the office to my room. Like that's something." It's something he's brought forward to the community that has stuck around, and will continue to stick around for years to come.
For Mr. Forte, being apart of Manville High School is more than just teaching; it's being a part of a small community that blends well, with an overall general positive attitude. Everybody knows everybody, and everybody grows together. In his 13 years of teaching, he's seen a lot of improvements in the community. Hopefully the students will continue to share more memories with him, and he'll continue to be a part of this loving town for years to come.