April Athlete of the Month: John Sharbaugh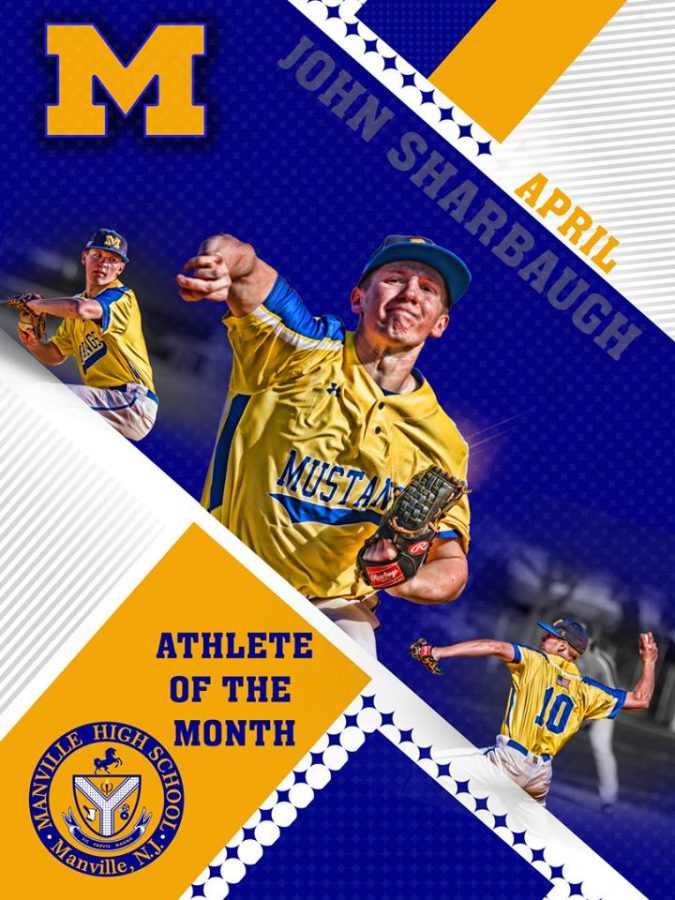 Kevin Rodriguez
June 13, 2019
No matter where you look, Manville is full of students who are always full of pride and energy. There's something about them that really shows their excellence, no matter where they throw it forward. John Sharbaugh is a special kid who always has that flare of confidence and intelligence. Whether it be as an athlete or as a student, he's always recognized for his excellence, and by winning athlete of the month for April, he's surely done so with his performance in baseball.
Even though John is an excellent student, there's no doubt that his performance in his schoolwork is reflected in his work as an athlete. He plays football in the fall, then prepares himself for baseball in the spring. No matter which sport he's playing, he always looks for room to improve, "I think I'm always trying to work harder than the game before, and I have some of these accomplishments because I've worked hard and I've pushed myself." He takes criticism well, understanding that the only way to improve is to notice where you lack, which is exactly what's won him this award. "Sometimes you make mistakes or things don't go as planned, but you should use those as learning experiences and you should take them to heart and to the mind, but don't dwell on them and always use them to improve." He was very insightful on how important it is to always focus on improving your game, and never be satisfied with where you are.
Between the two sports, John tends to favor baseball a bit more, albeit he thoroughly enjoys both. "I enjoy playing both of them, and when I am playing (one of them), I usually favor that one, but overall I like baseball more. Since I was a little kid, I played both of those, I always enjoyed playing so that's why I continued".
"I understand that there's a whole bunch of other athletes that deserve (this award). It's nice to have that competition not just in the team, but in the whole school and it pushes you to work harder." Realizing the competition not only in his team, but also throughout the school truly signifies how competitive Manville High School is. There are plenty of star athletes all throughout the school, but John Sharbaugh was the rightfully chosen one; the Mustang star for April. To win such an award clearly says a lot about one's attitude as an athlete, and there's no question that John has that winning mentality. We'd like to once again congratulate John Sharbaugh, our April athlete of the month!