MHS Takes on AP Testing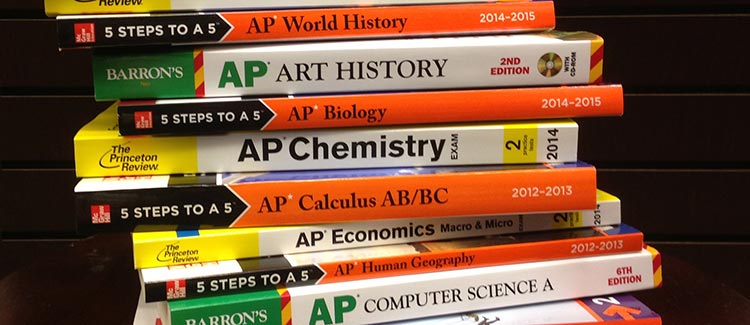 It's May at MHS, which means, AP Testing is in full swing.  The AP curriculum, administered by The College Board, consists of standardized high school courses that are roughly equivalent to undergraduate college courses. After completing an AP class, students typically take the AP exam in that subject, which can earn them credits and accelerated placement in college.
To help you decide if an AP course is right for you, here are some answers to frequently asked questions about Advanced Placement:
What is AP Testing?
Advanced Placement (AP) is a program in the United States and Canada created by the College Board which offers college-level curricula and examinations to high school students. American colleges and universities may grant placement and course credit to students who obtain high scores on the examinations.
When you take an AP course, you have the opportunity to take the AP Exam in that subject. AP Exams are given in May. They are two- to three-hour tests made up of multiple-choice and free-response questions. The exams are scored on a scale of 1 to 5.
Why take an AP Class?
As high school students begin to sign up for fall classes, it's time to consider whether you should register for an Advanced Placement course next year. AP courses are usually more demanding than regular high school classes. Most AP courses are similar to first-year college courses. They are not easy, but you can succeed in them if you put in time and effort. Most students at MHS now have their first chance to take an AP class in their sophomore year.
Be challenged. Advanced Placement classes are rigorous and demanding, offering an intellectual stimulation that students won't get in regular high school courses.
Improve college admissions chances. AP classes will raise the "wow" factor of a student's high school record. If a student does well in an AP class, it's a signal to admissions counselors that he or she is ready for the pressures of college study.
Arrive at college better prepared. AP classes sharpen students' writing skills, teach them how to think critically, and improve their problem-solving abilities. AP students learn to navigate the academic expectations they'll encounter in college courses.
Earn college credit. AP exams are scored on a scale of 1 (lowest) through 5 (highest). If a student earns a 3 or higher, he or she can receive course credits, advanced placement, or both upon arriving at college. AP policies vary from school to school, but the majority of colleges in the U.S. (as well as colleges and universities in 40 other countries) grant credit and/or accelerated placement for AP exams.
Win scholarships. AP courses and exam scores help students qualify for scholarships. According to The College Board, 31 percent of colleges and universities look at AP experience when making scholarship decisions.
Save money. Students with AP experience and credits are more likely to graduate from college in four years. Extra semesters (or years) at college can put a heavy financial burden on families.
AP classes can boost your GPA and strengthen your college application. But the number of advanced courses you choose to take should depend on your academic interests and your schedule. It's important to make sure you understand and can handle the workload. Begin by talking with a school counselor, an AP teacher, or the school AP Coordinator. Find out if taking an AP course would be a positive experience for you.