"One Normal Night" with the Addams Family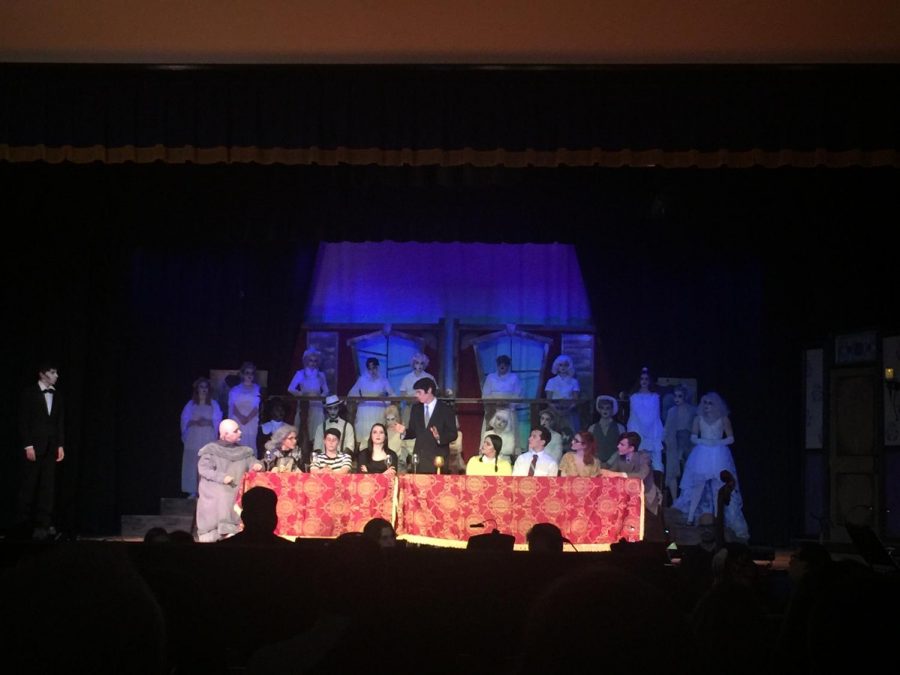 Kevin Rodriguez
April 12, 2019
Every year, the Manville High School drama club works countless hours throughout several months to perfect their talents. This year, the cast came together to perform the spectacular production, The Addams Family. In an eerie production that draws the audience into the graveyard. Young Wednesday Addams is attempting to bring the attention of her family to the love of her life, Lucas Beineke, a young man from Ohio. The concept of Wednesday being in love isn't quite easy for her mother, Morticia Addams, to grasp. Despite the neglect from her mother and younger brother Pugsley Addams towards the boy, Wednesday is able to convince her father, Gomez Addams, along with the rest of the family, to help the two families gather together in the name of love.
The opening scene of the show starts with the family standing together, representing what it means to be an Addams in When You're an Addams. Gomez and Morticia Addams, played by MHS seniors Brad Schuyler and Gabriella Lapinska, are joined by Grandma Addams, played by Isabella Cano, Wednesday and Pugsley Addams, played by Maria Castro and Anthony Yakobchuk, along with Uncle Fester and Lurch, played by Ashley Gonzalez and Dimitri Kontos.
Following the graveyard, Gomez has to fight to protect his daughter against the nature of love in Wednesday's Growing Up. Wednesday begins to acknowledge this force of nature as she's being Pulled in a new direction. After all, she only wants to have One Normal Night with the Beineke family. The family gathers with parents Mal and Alice Beineke, played by Kaylee Pfeiffer and Conor Johnston, and son Lucas Beineke, played by Connor Hagan, so they can all play a game of Full Disclosure to finalize the act.
In Act II, Uncle Fester acknowledges this nature of love, admitting his own love for the moon in The Moon and Me. Moments after, Wednesday and Lucas share a bonding moment as they argue over who's Crazier Than You, before Gomez and Morticia share their own bonding moment in a Tango de Amor. To finalize the show, the family gathers for Bows in a graveyard, concluding their production.
The ensemble put on a show of their own, disguised as the ancestors of the family. They worked in sync through various acts, unveiling themselves in the graveyard before appearing in various scenes to perform dances and other roles.
Many have described the show's opening night as one of the best of recent years, acknowledging that the second night was even better than the first. There's no doubt that the cast put on a show for the ages, and there was plenty of praise for the entire cast. The Addams Family production will be remembered, thanks to the hard work and effort from the beautiful, talented MHS theatre cast!