March's Athlete of the Month -A Tank That Never Empties, Alex Abarca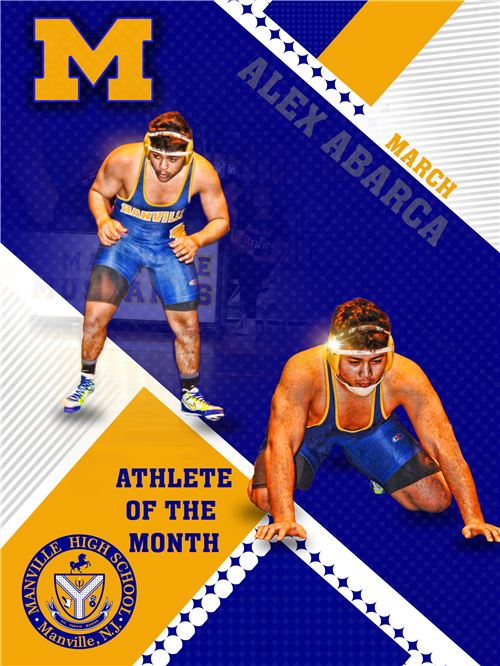 Kevin Rodriguez
April 2, 2019
Imagine taking a bull by the horns, only to be rammed to the ground with immediate impact. That's what you'd expect going up against Alex Abarca on the wrestling mat, Manville's March Athlete of the Month. Alex is the first junior to receive the award for the 2019 calendar year, and there's absolutely no questioning why. Simply put, he's a tank that never empties.
Alex Abarca wrestles year-round, representing Manville during the winter season. Despite his commitment to the sport, wrestling for Manville holds the heaviest weight for him. "Honestly, I've wrestled for my club, I've been in matches wearing my club uniform and it doesn't feel the same wearing my Manville kit… I just love the sport and every time I step on the mat, I think about representing Manville the best that I can. My goal for the sport is to next year bring home a state title for Manville."
"When you're carrying the people you hang out with and the people that are there for you, it's just different. I love the home crowd, I love the environment, I love putting on a show for people and it's very different to being at a club."
Alex carries his weight all across the team, hoping to influence the younger kids that are entering the program. Since he's still got a year left with Manville, he plans on helping the freshman wrestlers make sure they stay dedicated to the sport. "As a freshman, wrestling is also seen very differently. You're jumping into a different level where it's not as easy, so honestly my main goal for all the younger people is to stick with it. Sometimes you don't want to go to practice or do the little things, but it's the little things that make you enjoy the big things."
Winning Athlete of the Month isn't something that just anybody can do, and he knows it. He acknowledged his accomplishments as a wrestler, but knows it would be very difficult to achieve such an award. "I know in the wrestling community I have achieved many things and I have many more things to achieve in the Manville uniform, but I did not expect it and it is a complete honor to achieve it for March."
If there's any student you can look to being a leader and a determined athlete, it's Alex Abarca. With another year left for him to advance his accomplishments, he continues to look forward and acknowledge that he represents Manville on one of the biggest athletic stages. We want to congratulate Alex on his success as an athlete, and on his achievement of winning Athlete of the Month for March!