Teen Arts 2018: A Teen Arts Survival Guide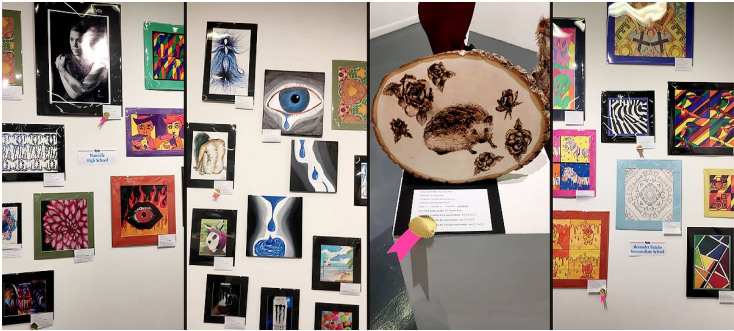 The annual Teen Arts Festival was held on Wednesday, May 16th at Raritan Valley Community College in North Branch, NJ Teen Arts is an Arts-in-Education Program of the Somerset County Cultural & Heritage Commission. There, you will find creative writing, dance, instrumental, theater, video, visual arts, and vocal workshops. There are so many
workshops to choose from, yet not enough time to attend them all. What's worse is that you may only get to go to four workshops, at most, during your time there. Many workshops start and end at certain times and can fill up quickly, so planning is the key to a great day.
The first step to a successful day is to pick out a time for lunch because no one can have fun without fuel. Next, is to make note of any important events you need to attend. Then, comes the fun part. Choosing the workshops you absolutely want to do during the day is the best way to start.
Having over 30 workshops to choose from is daunting, but ranking and prioritizing what you want to go to will make it easier to plan your day. If you are not able to go to all your top picks because times may clash, work around your important events and lunch. You may even need to
change your lunch time if you want to fit in a workshop.
Creative writing workshops are usually for anyone who wants to learn to
improve their writing skills, or to receive feedback on the writing piece they submitted. You can find lots of different Creative Writing workshops to choose from. Dance workshops teach you about different dances and actually get you moving, but there aren't very many. The Instrumental workshops aren't just for players, but also for singers and songwriters. Theater workshops bring out the actor or actress in you with events from improvisation to puppets to juggling. Theater can also appeal to singers too. Unfortunately there aren't many Video workshops, but the best part is that the film festival is a place where anyone can stop by at anytime, which can be the best place when you find yourself with extra time to burn. The Visual Arts have the most workshops to choose from. Many art forms like clay, crafts, and painting can be found in this section. There aren't many Vocal workshops, but songwriters and musicians can find at least one event for them.
There are many events, and there is something for anyone.
The most important thing to keep in mind is that you may not want to do what your friends want to do. You may have more fun finding a buddy and going through your own schedule. At the end of the day, it's what you did that will stick with you. So, seize the day with some art!