Señora Jackie Mendez, one of the newest Spanish teachers in the Manville High School world
language department, comes to our district with such a great attitude towards being here.
She grew up in Puntarenas, Costa Rica, in a vastly large and diverse community right on the
shoreline. Being so close to the shoreline, Mendez quickly found a passion for swimming at a
very young age. She would constantly be swimming, as she loved being in the sea. She grew up
and stayed in the area for many years.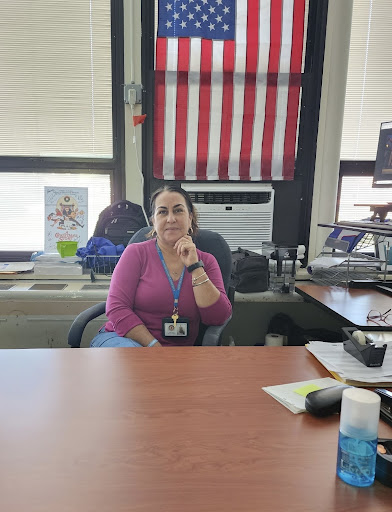 Jackie's high school experience is a little different than most of
 the students here at MHS. She
attended high school in Costa Rica, where the curriculum is very strict and demanding of the
students, making her a hard working person, which she strives to
still be today. W
hile she didn't
participate in any sports in high school, she would constantly su
pport her athletic classmates, especially
soccer players, which she loved to watch. Señora Mendez stated, "I wish my high school had a swim
team because from a very young age I've had a great passion for it." Sometimes Mendez wishes
she would've been more active in high school, but she uses her personal and high school
experience to try to understand and help her students.
The college process in Costa Rica is similar yet different to that of the United States. You must
take a test to see which professions you are able to pursue, as well as the university you can
attend. Señora attended the Hispanoamerican University of Costa Rica, where she followed the
profession and became a lawyer. She had enjoyed her time at the university and the friendships
and mentorships that she had with her peers, teachers, and mentors. While being a lawyer, she
started another job as a professor of the University of Costa Rica. She has always loved being
able to teach people new things, especially students, with whom she has the opportunity to help shape
their lives.

Señora Méndez shared some brief details about her personal life. She is actually a widow and has two children, both graduated from Manville High School, and the younger one was on the boys soccer team. Besides the love she has for her family and students, she also has a Shih-Tzu named Burky, who she has loved for the last three years. She enjoys riding her bicycle in the morning on weekends and being outdoors in nature. She also stated how her goal here at MHS is to help the students learn more about Spanish; they don't need to be perfect, however, she believes in connection. Being able to understand, or even be able to connect with people, is highly important and a valuable skill in day to day operations. Señora Meńdez would also like to be remembered by her students as someone who was always there for them, helping in any way she could. Señora can see herself at MSD for quite some time and she hopes to be able to make an impact here in our community.