MHS Boy's Basketball Team's Tournament Success
The Manville High School basketball team participated in the "Mike Shello Holiday Tournament" hosted by Dunellen High School, which took place on December 27th and December 29th. They played against North Plainfield in the Semi-Finals on the 27th at 5:30 pm and then Highland Park in the Championship on the 29th at 7 pm.
This is not the first time the MHS basketball team has participated in this tournament, but it is the first time back since 2014. Besides this tournament, they have participated in the Somerset County Tournament and Central Jersey Group 1 Playoffs. They are currently in 2nd place in their division and on a 6-game winning streak not having lost a game in a month. 
Although the team has been on a winning streak and doing well overall they have faced some challenges. One of those challenges is losing one of their teammates. We spoke with Coach Rooney who shared that, "The biggest challenge we had to face thus far was the passing of one of our players, George Watkins. This one really struck home, losing one of our own. George was beloved by every player and coach in the program. George's passing has really fueled the team and is the main reason why we won the Christmas Tournament. We could not have done it without him looking down on us. He was an absolute pleasure to coach and an amazing teammate and friend. We will honor him in everything we do."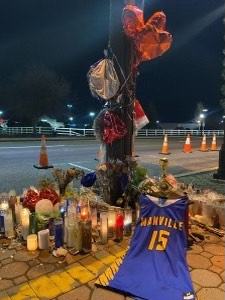 Despite this hardship, the team celebrated their win in the tournament through small celebrations including the court trophy presentation, in the locker room following the game, and even on the bus ride back to the school. 
The Manville basketball team's future is looking bright. Coach Rooney added that "[The] program would like to thank everyone for their continuous support and [we] look forward to seeing more and more fans at every game.  Follow our Instagram and Twitter page, @manville_bball, for all the latest news, information, and highlights regarding the team!"