Celebrating Ms. Alicia Mathewson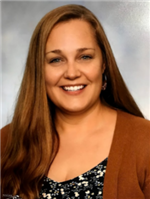 Ms. Alicia Mathewson is a born and raised member of the Manville community. She attended all schools in the district growing up and was a member of the National Honors Society, Key Club, and took many AP Courses during her time in high school. Soon after her graduation in 2004, she began teaching kindergarten at Weston School in 2008. She taught for a total of 10 years at Weston before moving up to Roosevelt to teach 3rd grade. 
Ms. Mathewson taught for a total of 13 years in the Manville School District before becoming the principal at Roosevelt School, which she had never thought would be something she wanted to do. Between the years 2014-2016, she attended Seton Hall University to get her principal certification, however, she had more interest in becoming a supervisor in the curriculum department. She explains that once COVID-19 hit the district, a principal position was posed to her, and she knew she had to do what was best for her students and families. 
Being a teacher, Alicia's biggest focus was on designing lessons, assessments, student activities, and collaborating with other teachers in her school. Now as a principal, her mind is split in so many different directions and focuses. She supports her staff, students, and families; additionally, she loves building connections with the community. She feels that having all 13 years of teaching experience has prepared her to be a principal. 
Ms. Mathewson expresses her goals as principal at Roosevelt as "My goals as principal are to learn the roles and responsibilities of this new position, support the district and staff goals, continue to build relationships with staff, students, families, and the community, foster learning, implement the Roosevelt Road and our behavior rubric, as well as improve the overall culture and climate amidst the pandemic." 
Alicia's passion for teaching came from the many teachers, staff, and administrators that she had the pleasure of being a student of during her time at Manville School District.
Ms. Mathewson has such a big heart and love for the school environment. On April 12th, she welcomed several members of her former National Honor Society to speak to the students of Roosevelt for College and Career Day. She believes it was a wonderful opportunity for her students to make new connections and to help prepare them for life after Roosevelt. 
Ms. Alicia Mathewson, a former student of the Manville District, teacher, and now principal of Roosevelt school, has a huge passion for helping those around her and preparing young individuals for life outside of her hands.