Mr. Caldwell Donates his Hair for his Division Champs
Mr.Caldwell is known for not only his craziness but well known for his beautiful long hair. However, on Wednesday, November 24th, 2021, he became unrecognizable in school because he cut his hair! The reason he cut his hair is that the Cross Country Girls won the Skyland Division Mountain Championship for the first time in Manville High School. 6 seasons ago, in 2016, before the season, Mr.Mccarrick told the Boys Cross Country team if they won the division for the first time, they would be able to cut Mr.Caldwell's hair. After the boys won, Mr.Caldwell also said they could shave Mr.Mccarricks head too. Last year, the Boy's Cross Country team won their second Division Title, however, the plan to shave Mr.Caldwell's hair got postponed because of Covid-19 shutdowns. Mr.Caldwell has been growing his hair since he shaved it after a run in December 2017. It has been 4 years since; he grows his hair out because he hates haircuts and loves his long and beautiful hair.
The plan to shave Mr. Caldwell's hair came back once the girl's cross country team won their division this year! As soon as Mr.Caldwell knew they won, he knew he was going to cut it and for sure wanted to donate it. He also wanted to donate his hair in 2016, but couldn't, due to his hair not being long enough. Mr.Caldwell and the Cross Country team donated his hair to "Wigs for Kids." It's an organization that makes real hair wigs for children with hair loss and provides them to families free of charge.
The afternoon of Mr.Caldwell cutting his hair, the coaches and team members were having a good time, listening to music, and happy that he was cutting it while being gathered around him. MHS's teacher, Ms. Stefani Levonaitis asked her mom, who is a hairdresser, Patty Levonatis, to come and help cut Mr.Caldwell's hair. The Cross Country team then braided his hair, to then chopped it off. Then Mrs. Levonaitis shaved it and shaved 'MXC' and '20' and '21' in his head so he could rep both the boy's and girl's Division Championship teams. The haircut was a big change for Mr. Caldwell, however, he got used to his hair pretty quickly but it was strange that a bunch of teachers and students did not recognize him at first in the halls.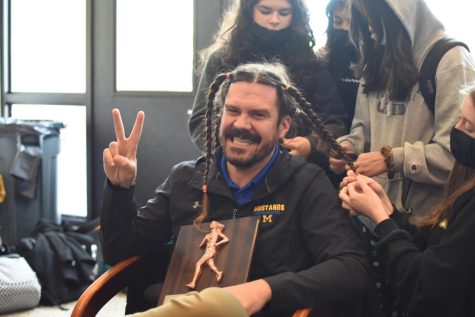 Mr.Caldwell leaves us with this, "Cross Country is an absurdly difficult sport. It requires so much focus, dedication, and toughness. I'm so proud of my team, it's a privilege to coach them. So when it comes to doing something like this to recognize their major accomplishments, it's an easy thing for me to do, to show them that I respect their commitment. "