Introduction to the MHS Wrestling Season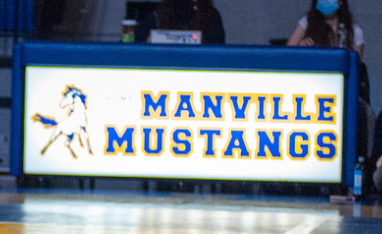 It is the start of December which means the Manville high school wrestling season has begun. The Manville wrestling team is coming off a 6-8 record from last year. Unfortunately because of Covid, they were only able to wrestle 14 matches and no tournaments, compared to about the usual 20-30 matches and multiple tournaments in years past. This year, the team will once again be able to compete in 21-24 matches and about 4-6 individual tournaments.
In addition to the proper amount of matches, the team also has new coaches, wrestlers, and a positive attitude going into the season. The coaches this season are head coach, Pat Gorbatuck, assistant coaches Dave Markowitch (Lycoming College), Michael Tyle (Rider University), and last but not least, volunteer assistant coaches Bobby Demeter (Centenary College) and Pearse Sweeny (Seaton Hall Prep). According to coach Gorbatuck, ̈Our coaching staff has a shared vision for what a wrestler in our program should be. The blend of experience and younger coaches that can wrestle with our top wrestlers is extremely important. In addition, our staff has tons of wrestling experience and has coached in many big matches which means no match or tournament is too big for us. ̈
This will be Gorbatuck's 15th season as head coach of the MHS wrestling program. When asked about how the program has changed or progressed since he's been head coach he says, ̈The program is in a much better place today than when I inherited it. Our youth programs are stronger and our wrestlers are training anywhere from 6-12 months a year in preparation for their upcoming seasons. ̈ It is pretty clear that the MHS wrestling program is better off in the past 15 years achieving accomplishments such as becoming Skyland Conference Valley/Mountain Division champions in 2015, 2018, 2019, and 2020, Central Jersey Group 1 finalist in 2016, 2017, and 2020, also having produced multiple state place winners, region medalists, and 100 match winners. The list of achievements for both the team and individual wrestlers just goes on.
When asked about what led to these accomplishments coach Gorbatuck states, ̈Thus far, my coaching career has been an unbelievable ride that I do not take for granted. The accomplishments that our wrestling program has been the result of a relentless effort by so many great people. I have been blessed to have so many great assistant coaches, supportive families, and dedicated wrestlers. ̈ When asked the question will this year's team and perhaps even future teams be able to carry on what it takes to achieve the same amount or even more success in the future? He states, ̈The best way to continue our success is by emphasizing constant improvement as people, students, and as wrestlers through our effort. I have learned that it is very difficult to become great and even harder at staying there. However, our goal is to improve the program every day so that the wrestling team can thrive regardless of the challenges we face. ̈ When asked about this year's wrestlers he states, ̈Overall, our lineup is inexperienced and will need to develop as the season progresses. We have numerous unproven student-athletes up but I expect that to motivate us as we get deeper into the season. ̈
Lastly, coach Gorbatuck would like to add, ̈I am looking forward to another fun season and I am excited about the opportunity to help our student-athletes develop on the mat and as people. Also, I cannot wait to see all of our rowdy student section back in the MHS Gym on match nights. ̈ The Mustangs will face their first competition on December 18th at Middlesex High School for the Mike Dessino Invitational tournament.