Manville Football seeks to go 3 and 0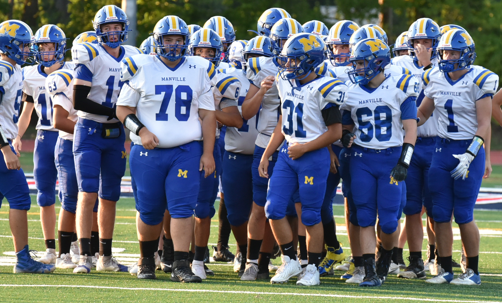 Friday, September 24th, the Manville Mustangs took on the South Hunterdon Eagles. It was also Senior night for the Mustangs! Manville High School held a ceremony for senior night before the game. During the ceremony, they honored the band, cross country, cheerleading, and the football team. The football team has 5 seniors on their team: Anthony Yakobchuk, Brandon Flores, Cj Petrone, Jason Gonzalez, and Nico Ayala.
To start the game, South Hunterdon got the ball. On the first drive for the Eagles, they scored a touchdown to take a 7-0 lead. But the Mustangs answered quickly as Shawn Purcell scored on the first play of the drive. Unfortunately for the Mustangs, that was the highlight of their offense game as South Hunterdon takes down the Mustangs 43 to 14. Manville's record is now 2 and 1 and South Hunterdon improves their record to 3 and 1.
Even though Manville lost, their stats still progressed! Danny Wildgoose had 65 passing yards on 8 attempts. Shawn Purcell had 94 yards rushing on 7 attempts with one touchdown. Purcell also had 46 receiving yards on 2 catches. Brandon Flores had 8 yards on 5 attempts and one touchdown. Ethan Mullins had 45 yards rushing on 2 attempts. Alex Orzol had 19 receiving yards on one catch. On the defensive side of the ball, Geoffrey Mathis has 14 tackles which lead the Manville defense. Doug Toth had 9 tackles. Shawn Purcell also had 9 tackles and 1 interception. Alex Orzol had 7 tackles and 3 tackles for a loss. Allan Ambrose had 5 tackles for the Mustangs.
This Saturday, October 2, Manville takes on Dayton. In Manville's last 5 matchups with Dayton, they are 4 and 1 so let's go Mustangs!