Celebrating Women's History by Emphasizing Some of the Women at the MHS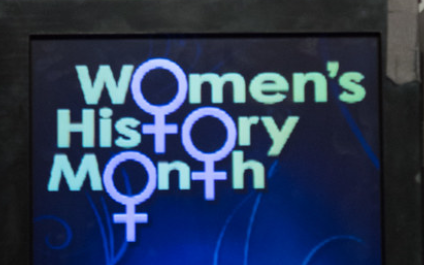 Women's History starts March 1, and ends March 31, and due to that we would like to highlight some of the amazing female teachers in the Manville High School.
Starting with Ms. Levonaitis, she teaches English 10, English 10 Honors, Creative Writing, and Journalism 1 and 2. She has been working extremely hard on making sure to help her students with their work and assignments. She is also always available to help and is extremely understanding. For example, in her Journalism 1 and 2 class she always makes sure to check on everyone to see how they are doing and if they need any help. Even when students are falling behind, the first thing she does is ask what is going on because she understands that there might be some things that the students might be dealing with that caused them not being able to finish their work. To add on, especially right now during COVID-19, she isn't pushing the students too hard and piling them up with work because she understands that this part year has been difficult for everyone. In conclusion, Ms. Levonaitis influences MHS by being an astonishing teacher due to the fact that she makes her students feel safe and welcome. 
To continue, another teacher that we would like to highlight is Mrs. Kohl-Williams. Mrs. Williams is a Visual Arts teacher and she teaches AP Portfolio, Drawing, Advanced Drawing, Sculpture, Advanced Sculpture, Color and Design, and Traditional Crafts. Her assignments are not only to draw or make something, but also to learn about the history behind the assignments. She is always available to try to explain and/or help the students trying to express themselves through art. Even though we don't realize it often, art is such a strong and important part of our lives; that is why she is perfect for teaching students the visual arts in our school. She not only tries to help students make their work as best as it can be by offering the supplies and her ideas. Being in her class gives off positive energy because of how positive she always is. To add on, she always gives the students opportunities to make up their work because she is extremely understanding, just like Ms. Levonaitis. Finally, Mrs. Kohl-Williams influences MHS because how kind, and understanding is; and being in her class is always a pleasure. 
Last but not least, we would like to also highlight Senora Arevalo. She is a Spanish teacher at both Manville High School and ABIS, she teaches 5th grade, 6th grade, 8th grade, and Spanish 1. She is extremely hardworking because of the amount of classes she teaches and how much she has to do on a daily basis. Learning a language is not easy, but Senora Arevalo makes it easier than anyone else. Her way of teaching is the most beneficial way due to the fact that it helps the students not only not be as stressed about not understanding the material and the language right away, but it also helps them be more interested in it because of the way she proceeds and the things she uses to teach. She is also always available and replies as soon as she can in order to help the students who are struggling. In conclusion, Senora Arevalo influences MHS and ABIS because of how hardworking and kind she is. 
Thus, considering that March is Women's History Month, it is extremely important to highlight and emphasize some of the astonishing women who are currently in our life.