Manville Comes from Behind to Clinch Conference Championship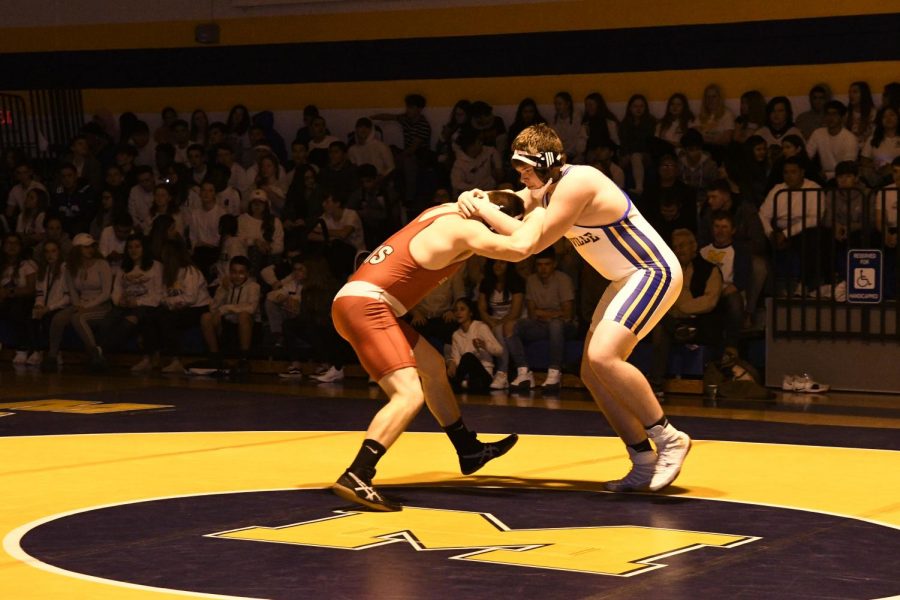 There was no empty seat in the house as the Mustangs took on division rival Belvidere. The stands were packed with white as the student section organized a white out that night meaning all the students wore white. Starting at 220 pounds, Manville's Joey Wildgoose would lose a heartbreaker 1-0. Belvidere would go on to win another 4 straight matches, 3 of them by pin.
Belvidere started with a huge 24-0 lead, but at 126, junior Ethan Burlew secures a pin in just 45 seconds and puts the Mustangs on the scoreboard; which completely changed the momentum of that match. At 132, Brandon Flores gets the Mustangs yet another pin, and add a forfeit at 138, the score is now 24-18 in just a matter of minutes.
It was almost all Manville from here on out. The Mustangs would go on to get 5 straight wins all by pin. The score increasing to 47-24 and in the last match of the night Belvidere was able to sneak out a close decision at 195 making the final score 47-27.
The Mustangs were able to walk away with the skyland conference mountain division championship for the second year in a row; doing so in a dominant fashion beating Belvidere by 20 points.
About the Writer
Shane Lallkissoon, Staff Writer
Shane Lallkissoon is a senior at Manville High School. He has been wrestling since 6th grade and is a 4 year varsity letter winner. He has also been team...