Student Spotlight: Nicolas Imerlishvili & Mouctar Diarra: Key Factors in Forensics Success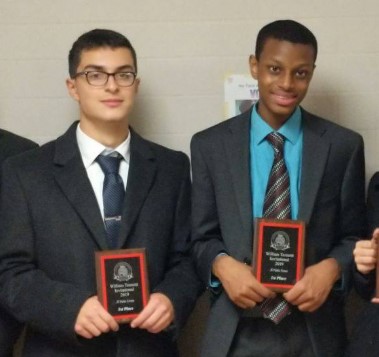 Staff Writer
January 17, 2020
The Forensics Team has taken over MHS! It permeates throughout the student body, before, during, and after school. This team is highly dedicated and enthusiastic about what they stand for. The team members meet every Thursday with their advisor, Mr. Michael Forte, where they prepare for their tournaments by doing mock rounds. 
The Forensics team can be broken down to concentrations which consists of Speech and Debate where they compete in 10-12 tournaments a year, including a district and a state tournament. At these events, there are 2 areas of debate that Manville is concentrating on this year, as well as numerous speech categories. A new style called congressional where students mock congressional hearings from the house of representatives where they vote on bills and conduct speeches regarding these topics.
The style that Manville has focused on for the past years is the public forum. Here, the team will receive a resolution or a topic every month, which they will research, prepare arguments, and conduct 40-50 minute long debates.
Nicolas Imerlishvili and Mouctar Diarra, 2 10th grade Forensics Team members, have been leading the Manville Debate Team in trophies and wins since January their Freshman year.  According to their Advisor, Mr. Michael Forte, the pair have made a tremendous dedication to Manville High School Forensics, committing countless hours to research, practice, and assisting their teammates.  They have served as role models for the new freshman debate who have followed Nick and Mouctar at tournaments and seen their work habits.  
The team saw success being the first Manville Debate Team to win a Debate Tournament at the JV level (Pennsbury, Pa Nov. 2019) as well as the first Manville Debate Team to win a Debate Tournament at the Novice level (Ridge Jan. 2019).
This January, the dynamic duo, Nick and Mouctar achieved an extraordinary milestone for Manville Debate becoming the first team in Manville history to qualify for the state tournament at the Varsity level when they placed 4th out of 20 upperclassmen debate teams at the Freehold Invitational on January 11th.