Cyber Monday Deals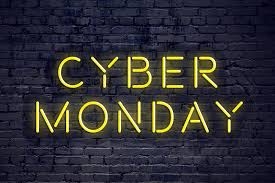 Cyber Monday has almost become as popular, if not more than black Friday! The deals and steals are so close we can taste it, but wait, what ARE the deals and steals? What is Amazon and Ebay selling anyway? How do you know you're getting the best deals? Well ladies and gents get ready to NOT break the bank this holiday season with the top deals for him, her, grandma and your great-aunt-Tilly on each of these iconic websites.
Amazon
For him:
$199 Playstation 4 Slim 1 TB bundle will definitely score you happiness points with your man, brother or bestie! The bundle includes a Dualshock 4 wireless controller, God of War, The Last of Us Remastered, and Horizon Zero Dawn: Complete Edition.
$39 Cuisinart 5-in-1 Griddler, because who doesn't need a griddler?
Up to 35% off men's fall fashion. That's right ladies, time to get your man those t-shirts he just loves sooooo much.
For her:
Alright men listen up, if your woman asks for a Kindle, get her this one: the $84.99 Kindle Paperwhite and $5 credit is 45% off the regular price… I smell a deal.
Then there are the $139 Apple Airpods with charging case. With $20 off the original price, these airpods will be put in baskets like lightning.
Amazon is offering up to 30% off all Bed and Bathroom essentials, because you can never have too many linens.
Ebay
For him:
Has he been asking for that super awesome gaming laptop? Well Ebays got you covered the MSI GF75 17.3 Gaming laptop is $400 off this cyber monday! The Laptop comes equipped with 8 GB of RAM and 512 SSD.
Do you have a friend, significant other or brother that just LOVES flannels? Well here's a deal for you! Men's Heavy Fleece Lined Sherpa Hoodie Plaid Flannel Jacket With Hood is $48 off the original sale price!
Need a new watch? We've got you covered! Rolex is up to 30% off on Ebay this monday.
For her:
What do we want ladies? Michael Kors bags! When do we want them? This Monday on Ebay! The Michael Kors East West Crossbody Saffiano Leather Bag is 79% off!
Who doesn't love jammies? Ladies the Carnival Intimates Ladies Flannel Plaid Lounge Pajama Pants are on sale for $13.99.
The Anastasia Beverly Hills Liquid lipstick mini gift set will be on sale at 36% off this holiday season!
Ready, set, shop!