Stars Out of Manville
Manville, a small town in the middle of New Jersey, not even 2.5 square miles. Its high school is listed as part of one of the most underfunded school districts in the state. It's hard to imagine that many success stories could come out of this tiny town. But where there's a will, there's a way. Manville has had 2 prominent stars, an NFL running back who is still currently playing and a voice actress who starred in one of the most iconic 90's kids shows in history.
Cheryl Chase is an American voice actor who voiced the character Angelica Pickles in the famed kids show Rugrats. Rugrats was a 90's kids TV show showing the world from a baby's point of view. Angelica was the oldest of the group in the show and was usually depicted tormenting the other babies. Cheryl's character became so popular among the community she was ranked #7 in TV Guides "50 greatest cartoon characters of all time."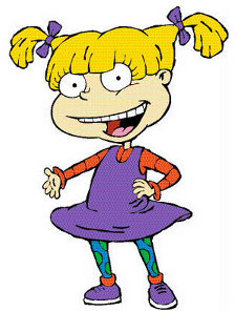 Cheryl also starred in other shows such as The Mr. Men Show, Nadia: The Secret of Blue Water, and The Ren and Stimpy Show. Cheryl was born and raised in Manville, NJ and attended Manville High School for all 4 years, graduating in 1977. She then attended Brigham Young University where she graduated in 1981. A year later she made her professional debut in the 1982 movie Side by Side. 
Manville also has a current NFL player who is a running back for the Detroit Lions: Theo Riddick. He lived in Manville while his parents lived in Somerville, NJ. He attended Manville High School for a year before transferring to Immaculata for the remainder of his high school career. In high school, he was ranked as a top 10 all purpose back in the nation as well as helping his team to a state championship in 2006. 
After high school, he accepted his offer to Notre Dame over other schools, including Rutgers, Penn State, and Pittsburgh. In college he amassed over 1000 rushing yards. He played as a running back his freshman year and a slot receiver for the remainder of his collegiate career. 
After college, Theo Riddick was selected by the Detroit Lions in the 6th round of the 2013 NFL draft. The Detroit Lions signed Riddick to a four year, $2.25 million contract that included a signing bonus of $91,000. The Lions use him as a running back, slot receiver, third down back, punt returner, and kick returner. 
Manville has produced top tier talent at the highest levels in athletics and television. Cheryl Chase continues to voice act but hasn't starred in anything since 2008. Theo Riddick is still playing the the NFL 6 years later as a running back.