Has Manville Made it?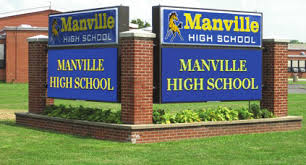 Recently, Manville High School has experienced an architectural face lift. Students left last year to an old, cold, and probably haunted (ask the theatre club, they'll tell you it's haunted for sure) auditorium, even older signs out front and the same red brick building they have seen and spent many years in. This past summer though, Manville High got what it deserved; students can now experience a new and improved auditorium, signs around the building shouting Manville Pride, like the giant "M" outside of the gym and the spray painted horseshoes that lead our Mustangs to the field. Yet all of this begs the question: We like our new look, but how does everyone else feel about it? Well Niche.com, a ranking website for schools, answered our questions thoroughly and excitingly. Lets see how we compare.
Out of all Somerset County schools, Manville High holds a rank of 11, beating out North Plainfield, Bound Brook, Barack Obama Green, Thomas Edison Energysmart and Somerset Secondary Academy. Niche gave an overall grade of B- with an A in diversity, B in health and safety, and B- in both academics and teachers. Manville High is ranked as #134 out of 487 schools in New Jersey. Many current reviews of the school say that they love the new look and that it influenced the rankings in the Niche reviews positively.
About the Writer
Kaylee Pfeiffer, Editor & Staff Writer
Meet Kaylee Pfeiffer, editor and staff member of Hoofprints. Kaylee is constantly active in clubs and activities around Manville High; she's in the stands...