Entering the Magical World of Harry Potter: A Review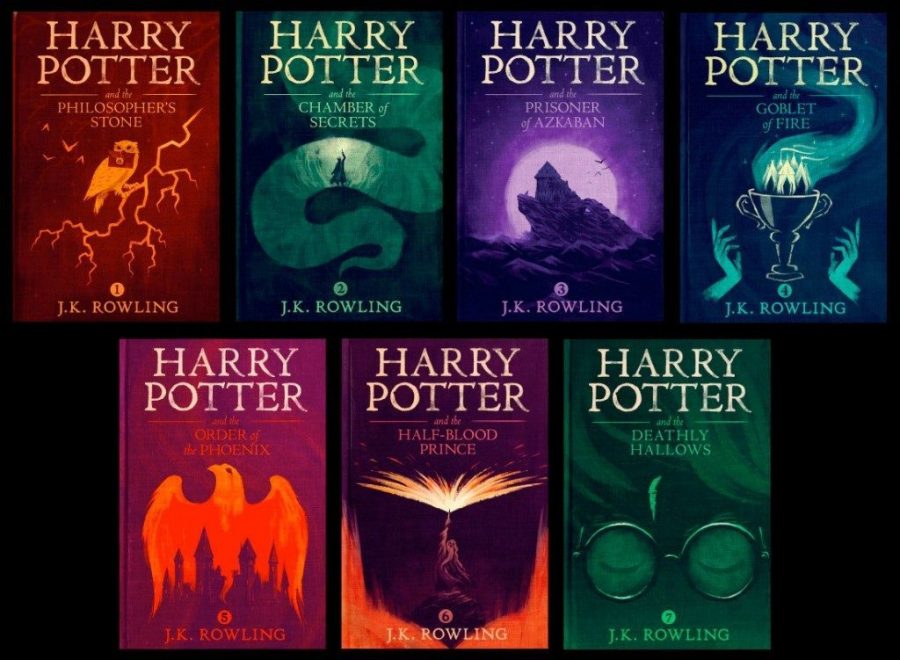 Harry Potter is a fantasy series written by the author J.K Rowling. It follows the story of a boy named Harry, who on his 11th birthday finds out that he is a wizard and begins his journey at Hogwarts School of Witchcraft and Wizardry. However, while entering this new world, not only is Harry famous but also finds out that as a baby he defeated the most feared wizard of all time; Lord Voldemort. Now that Harry has returned to the Wizarding World, Lord Voldemort must do everything in his power to bring himself back to life, and defeat his mortal enemy, Harry James Potter. Here is a review on the Harry Potter book series:
Harry Potter and the Philosopher's Stone: As a young boy, Harry Potter who has been raised his whole life by his aunt Petunia and his Uncle Vernon discovers that he is a wizard and attends Hogwarts School of Witchcraft and Wizardry in which he meets his two best friends Ron and Hermione and gets sorted into Gryffindor house. Now in the wizarding world, Harry must face his mortal enemy, Lord Voldemort without any  previous knowledge, in the midst of starting a new life.
Harry Potter and the Chamber of Secrets: Now in his second year at Hogwarts and his first encounter with Voldemort, Harry must figure out the reason why strange things are happening at Hogwarts and why he is hearing voices where nobody else can. Ron and Hermione must help Harry find out what is happening around the school and fight what is now a young Tom Riddle and his basilisk.
Harry Potter and the Prisoner of Azkaban: In the third part of this book series, danger seems to approach Harry when a mysterious man from his past gets out of Azkaban, a high security prison for the most dangerous wizards, and is now on the run to get Harry. In this book, we go more in depth with both of Harry's parents, James and Lily Potter and what happened to them as well as how Harry copes without his family. 
Harry Potter and the Goblet of Fire: After three long years at Hogwarts, being "the boy who lived" and keeps on living, is no longer fun for Harry. As witches and wizards from two other wizarding schools arrive at Hogwarts for the Triwizard Tournament and he wants to keep a low profile; his name is put in the Goblet of Fire which does not elect underage wizards. Now having to compete in the tournament, and being hated by the entire school, Harry must survive the highly dangerous challenges, and win the Triwizard Tournament. Confronting once again, Lord Voldemort for a battle that Harry will not forget for the rest of his life.
Harry Potter and the Order of the Phoenix: After Lord Voldemort's come back, a now traumatized Ministry of Magic refuses to accept the return of the Dark Lord, making Harry seem unreliable. Hogwarts school becomes a nightmare for Harry when new headmistress Dolores Umbridge takes Dumbledore's position at the school. Harry must protect his friends and classmates by creating a secret alliance named  "Dumbledore's Army" in which he teaches his peers defense against the dark arts in case they ever confront the Dark Lord. Now dealing with pain, death and trying to get over what happened the previous year, Harry must protect himself once again.
Harry Potter and the Half-Blood Prince: During his 6th year at Hogwarts, Harry finds a strange book that is property of a mysterious man named the "Half-Blood Prince." A now notoriously worried Draco Malfoy seems to have been behind strange events happening at Hogwarts. In this redemption of the series, we get an inside look of Lord Voldemort's past life and observe how Harry, Hermione, and Ron begin to unravel the secrets of the Half'-Blood Prince along with Draco Malfoy's. Harry and Dumbledore begin hunting horcruxes.
Harry Potter and the Deathly Hallows: In the last book, the story of the boy who lives comes to an end with shocking truths, big surprises, and the most epic battle of all time. In order to defeat Lord Voldemort once and for all, Harry, Ron, and Hermione must leave everything behind and hunt horcruxes. Now with the Dark Lord taking over the ministry and Dumbledore's passing, Harry is left by himself testing all of his strength along with his friends. They reunite for one last and ultimate battle in which either must die at the hand of the other for neither can live while the other survives.
Harry Potter has brought people from all ages, races, religions, and beliefs together and unite them. Rowling put much detail, dedication, and love into these books; it is no wonder why the series is what it is today. 
About the Writer
Michelle Cordero, Staff Writer
Michelle Cordero is a freshman in high school. She has been apart of journalism for the Manville high school newspaper for three months at the present...