Spooky Season at Fright Fest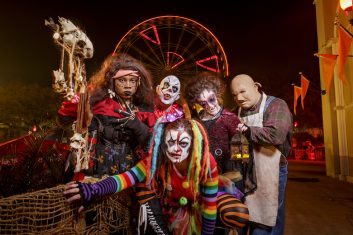 What does Six Flags have in store for us for Fright Fest? First off, they added new attractions and fun activities, such as Aftermath, Dead Man's Party 20th Anniversary Bash, Scary-Oke and more. Aftermath included an escape run where you can try to dodge the disease as if there's been an outbreak. The attraction is covered in crime scene tape and broken windows of homes with SWAT and Military vehicles covering the areas. Another attraction, "Dead Man's Party 20th Anniversary Bash," consisted of the celebration of the 20 years of Dr. Fright's iconic song, where spectators could watch and have a good time with their family.
Most importantly the many highered scarers dressed in costumes and do "fun scares" and are willing to take pictures with the people enjoying Fright Fest. The rides at Six Flags are even more scary at this time as they sometimes have the scarers on the rides with you and you have to ride with them. The scary part of the ride is that you can't get off after you get on, even if a terrifying zombie is seated right next to you.
Fright Fest is from September 13 to November 3. It has many spooky attractions that many can experience. I know I'll be going this year, will you?
About the Writer
Jayson Hernandez, Staff Writer
Jayson Hernandez is fourteen years old, athletic, and loves to make people laugh. He hopes the articles can connect people so that they feel updated with...