Community Day 2019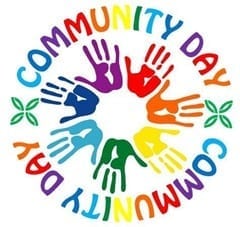 Fatima Diarra
October 15, 2019
Manville's 90th Anniversary was celebrated on Saturday, September 23 from 2 to 7 PM. Much of the community came out to celebrate the special occasion with food, games, and activities. Free food of hotdogs, burgers, and drinks were offered to everyone who attended. It was a hot day and drinks and food ran out fast. The line to get food seemed never ending. Eventually the options were limited to hotdogs and cold water. Hydration was very important since the sun was not giving anyone a break.
The event featured many booths from the library, to religious groups, to girl and boy scouts. They all had their own presentations, or activities, or items one could take along. One of the most popular booths was the cartoon character booth. You could come and have yourself drawn in a cartoon style and take home the finished product. There was also live music playing throughout most of the celebration by a Philadelphia band called Strangers. Other activities included the wild animal exhibit that even showcased an alligator. A water-balloon toss was also organized for all ages to join towards the end of the day. The bounce house was quite the popular attraction for young kids and groups of friends alike. You could always see a line of children wanting to go again.
Many adult and National Honor Society volunteers worked across the event to make sure things ran smoothly and efficiently. From supervising activity stations to distributing food and water to setting up and getting the word out for events. Thanks to all the help; the celebration was a success. 
At the end of the night, after everything got shut down, there was a fireworks show. If you weren't there, you did not miss a thing because the fireworks could be heard far and wide. Manville's 90th anniversary celebration may have come and gone, but next years celebration is sure to be a treat also. Stopping by is definitely worth the trip.