April Showers Bring…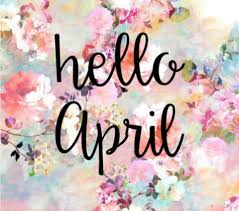 Fatima Diarra
April 3, 2020
Spring is creeping in and it's already April. The month of April has a few famous holidays such as April Fool Day, Earth Day, Arbor Day, and Easter. However, those aren't all the holidays April has in store. If you look, there is actually a holiday for every day of the month. So what holidays should you be looking out for this month?
National Pet Day is on April 11th. Colleen Paige, animal welfare advocate, founded National Pet Day to celebrate pets and bring attention to those waiting to be adopted in shelters. It started in the United States, but has spread to other parts of the world. It is celebrated in Ireland, Israel, Australia, and more. What can you do on such a purr-fect day? Spend time with your pet giving them lots of love and attention. If you were considering getting a pet, this is a great day to adopt from a shelter or get started on the research to get a wonderful companion. 
National Scrabble Day arrives on April 13th. April 13th is the birthday of the game's creator, Alfred Mosher Butts. Scrabble used to be called Lexico until James Brunot bought the rights to the game. How can you stay festive on such a day? Go and play the game. Grab your family and spend the night playing a heated battle or call up your friend to play scrabble's video game version. If you're really adventurous, play online with someone farther from home. Scrabble can be played in 29 languages, just make sure you decide which language you're playing in.
National Picnic Day is held on April 23rd. The weather warming up and it almost being the middle of spring makes this a great time to go out on a picnic. It's a time to spend with family, friends, and acquaintances while digging into delicious food. The best part of picnics is you can be virtually anywhere and still have a good time. In the comfort of your living room floor, or your backyard, or the beach, and so much more can give you an experience to remember. Making sure to pack games or conversation ideas will keep the party going and make sure it ends on a good note. Fun memories, fun people, and food. What's not to love?
International Dance Day is celebrated on April 29th. It was created in 1982 by the Dance Committee of the International Theater. It's a day to appreciate the diversity in dance. The day was specially picked since it was Jean-Georges Noverre's birthday. Noverre is the creator of modern ballet so the day seems fitting. Some ways to celebrate International Dance Day is to actually get up and dance. Taking a class to learn a new dance, dancing by yourself or with friends, even seeing a show goes with the spirit of this holiday. 
Since there is much to celebrate in April, why not try out a holiday. Change it up and try something new, you might find one event can turn into a yearly celebration.