Mackenzie Brown; Manville's Student of the Month for September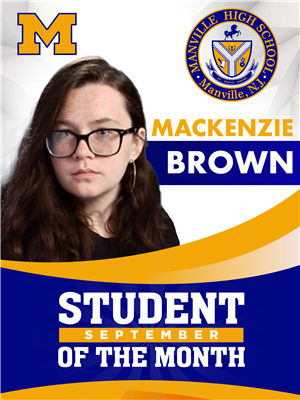 Staff Writer
October 31, 2019
Hang on for a minute...we're trying to find some more stories you might like.
Mackenzie Brown's hard work and dedication to academics has set MHS standards and expectations high. She was elected as Student of the Month for September. She expressed, "I was very grateful to see so many years of taking honors and AP classes, and studying in my free time pay off in some way."
Mackenzie's intense and rigorous classes is not the only attribute that contributes to her receiving this award; she is also involved with many things inside and outside of Manville High school. "I do a ton of stuff! I've been in the marching band for 6 years, concert band for 5, jazz band for 4, yearbook for 4, NHS for 3, book club for 2, and this year I've joined the GSA and Forensics. I've also been working since my sophomore year, as a cashier at shoprite for almost two years which I recently resigned from, the Weston summer camp, and now as a helper at the Middle Earth after school program at Roosevelt." Mackenzie's involvement in band for an extended amount of time translates to her future plans. She hopes to attend a university where she will study Music Education. 
Her ambitious drive assists her in her success, "I'm a very competitive person, so between wanting to score high for my family and being motivated by my hardworking friends, I push myself a lot when it comes to academics."
Mackenzie has definitely set the bar high for achievement in Manville High school. "It's an honor and I'm very lucky to have been selected for this prestigious title."
Congratulations to Mackenzie Brown for receiving September's Student of the Month.